​Discussion of Community Issues and Priorities from the Southold Town and Hamlet Survey.
Poquatuck Hall
November 12th at 9:30AM.
• What are the results?
• What do they mean?
• How are the topics related?
• How are they being addressed now?
• What should the next steps be for areas of concern?
Please share your thoughts and join us for this informative program.
Cider and cider donuts will be served!
Deer Management Forum
At Poquatuck Hall – Moderated by Mary Morgan
Panelists:
Greg Doroski -Town Board Liaison for Deer Management Task Force
Craig Jobes-  Environmental Analyst and de facto member of the Deer Management Task Force
Arnold Blair- Nassau Point Property Owners Association Deer Committee and member Deer Management Task Force.
Nitrogen Pollution and Septic Improvement in Southold Presentation
On Thursday, July 28 at 6:30pm Southold Peconic Civic Association hosts 'Nitrogen Pollution and Septic Improvement in Southold' an informational program presented by Valerie Virgona of Peconic Estuary Partnership. Nitrogen pollution is a threat to our environment and economy on the East End. The Peconic Estuary Partnership (PEP) works on projects to mitigate nitrogen pollution, such as wetland restoration and stormwater management.
PECONIC COMMUNITY CENTER
1170 PECONIC LANE
Orient Fire Dept. – Pig Roast
Orient Firehouse, 23300 Main Road, Orient
Tickets Online – $30, $35 at door
13th Annual Heritage Day
A Red, White & Blue Parade Down Village Lane. 12 Noon. Followed by Hot Dogs, Sweet Treats, Kids' Games,
and music by the Mudflats in Poquatuck Park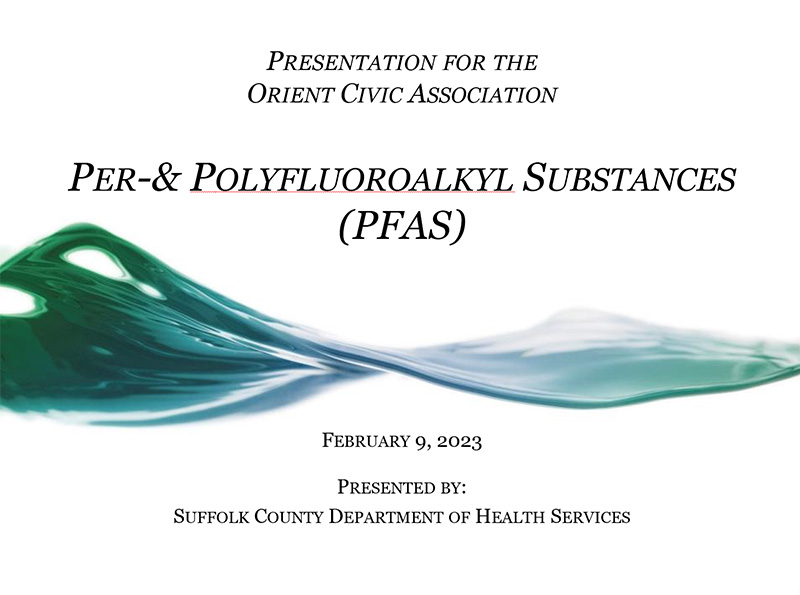 On Thursday Feb. 9, 2023 the Orient Association hosted a Zoom Information Session so that the community can learn more about the expanded water testing survey for PFAS contaminants that is being performed by the Suffolk County Department of Health Services (SCDHS). ...
read more