2022 UPDATE – PRESERVATION GOAL
AND A PUBLIC-PHILANTHROPIC PARTNERSHIP
The Preserve Plum Island Coalition is campaigning for Plum Island to become a national monument for the purposes of ecological conservation, historical interpretation, and the discovery and celebration of our shared cultural heritage. A potential donor has been identified, offering the possibility of long-term stewardship through a public-philanthropic partnership. We see a pressing need for immediate conservation of the island's sensitive environmental, historical, and cultural resources.
On April 25, 2022, New York senators Charles Schumer and Kirsten Gillibrand and Connecticut senators Richard Blumenthal and Christopher Murphy supported this vision, sending a joint letter to the secretary of the U.S. Department of the Interior, Deb Haaland. The four senators urged Secretary Haaland and the Biden administration to "consider and utilize all available executive and administrative tools at [their] disposal to ensure the permanent protection of Plum Island and its management for conservation by the Department of the Interior." They encouraged the administration to "take action in line with the 'America the Beautiful' goals" and permanently protect Plum Island, "including through a National Monument designation or any other measure that leads to comparably protective conservation outcomes." We couldn't agree more. Read their full letter here.
A public-philanthropic partnership would engage the Department of Interior, Indigenous stakeholders, the State of New York, regional and local entities, and the community with the amazing richness of plant and animal species, people's cultural heritage, and the history of Plum Island, to help tell the story of America, together. Properly managed, Plum Island can showcase a full reckoning of America's history, from times of ecological abundance to those of significant cultural disservice. Our vision is to protect and enhance Plum Island's remarkable ecological value; unite people with preservation, interpretation, and educational opportunities; and celebrate the rich cultural heritage and history of people interacting with the island over the millenia —all the way to the present day.
WHY IT MATTERS
About a mile from Orient Point, at the tip of Long Island's North Fork, lies the 822-acre pork-chop-shaped Plum Island. This pristine island—home to hundreds of species, some rare and endangered—is nationally significant in its ecological and historical resources, as well as in representing the deep cultural heritage of people who have lived in the region for thousands of years. Home to a famous laboratory that is closing in the next few years, Plum Island can benefit from careful stewardship if it becomes a national monument or is preserved in perpetuity under a comparable measure. Over 111 species of conservation concern have been documented on the island by scientists. Nearly a quarter of all bird species known in North America, north of Mexico, have been sighted there!
And learn more at preserveplumisland.org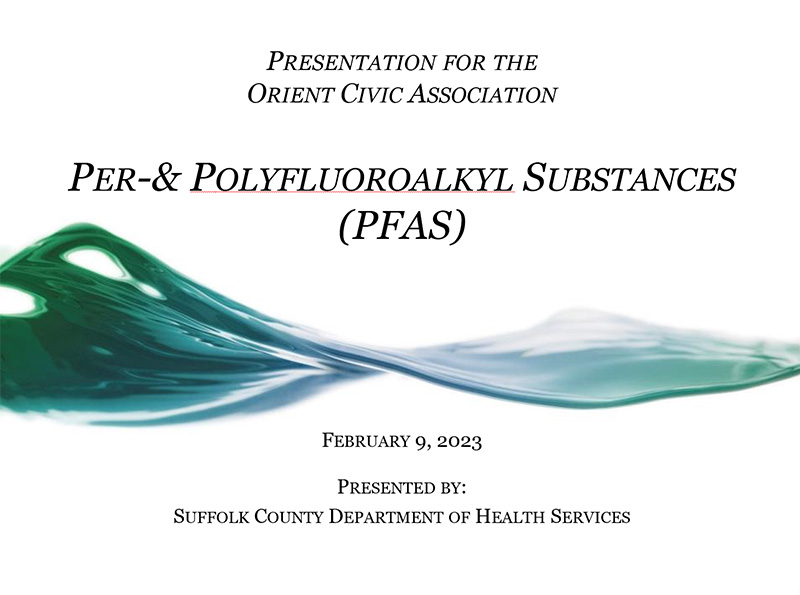 On Thursday Feb. 9, 2023 the Orient Association hosted a Zoom Information Session so that the community can learn more about the expanded water testing survey for PFAS contaminants that is being performed by the Suffolk County Department of Health Services (SCDHS). ...
read more