Watch the Aug. 13, 2022 Deer Management Forum
Deer Management Forum Agenda
The Orient Association is hosted a Deer Management Forum on Saturday, August 13th at 9:30 am in Poquatuck Hall. The guest speakers were:
Greg Doroski- Town Board Member and Liaison to the Deer Management Task Force
Craig Jobes- Southold Town Environmental Analyst in charge of the hunting program and de facto member of the Deer Management Task Force
Arnold Blair- Nassau Point Property Owners Association Deer Committee and member of the Town Deer Management Task Force.
Find out what the Town is doing to control the deer population and see what you can do to help
Learn about the rules and regulations that control hunting methods in Southold.
Learn about the program in Nassau Point where the homeowners got together to implement a hunting program that has helped to control the deer population.
Learn about what is possible here.
Update on Deer, Tick-Borne Diseases and Public Health
Calling it a "public health crisis" the North Fork Deer Management Coalition, a group of local citizens concerned about the increasing numbers of tick-borne diseases and an escalating deer population, has been working for the past 2 years to create a plan of action for the Town of Southold. Progress is being made. Here's a chronology of actions to date:
August -September 2021 – Month-long Survey
We asked our community for feedback. Many thanks to those who responded to a month-long survey created by the Coalition and promoted by the Orient Association. More than 90% of the 194 respondents said they know someone who had suffered from a tick-borne disease.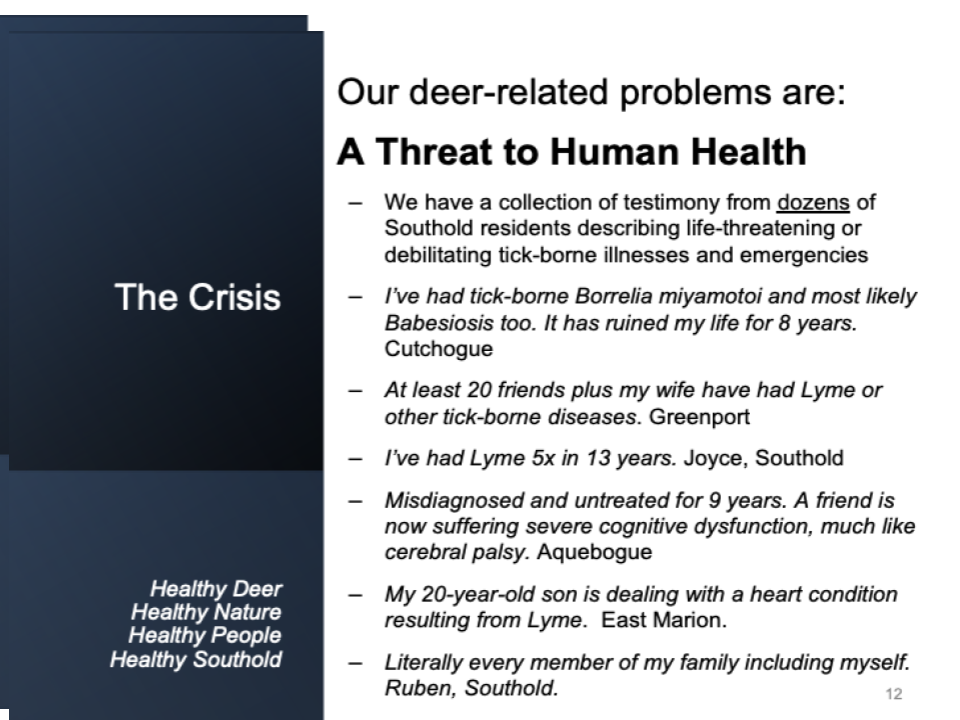 91% of respondents were concerned or very concerned that the DEC in its recent NYS DEC 2021-2030 Deer Management Plan said Suffolk County has the most severe widespread deer-related problems in the state. 94.2% want Southold to take action.  Civic groups spearheading new effort to manage deer and tick populations – The Suffolk Times
Importantly, private landowners indicated they were willing to help with a solution. Of the private land owners surveyed 58.5% said yes (29.3% said maybe) to the question: Would you call the Town for help hunting deer on your property?  The number to call is (631) 765-1283.  For more information visit Southold's deer management website https://www.southoldtownny.gov/438/Deer-Management).
November 2021 – Presentation to the Public
We presented our findings to the public.  In a public presentation, the North Fork Deer Management Coalition highlighted how our escalating deer population is severe and widespread, damaging to our environment and a threat to human health. Deer damage to local farms, gardens, forests is costly, as are deer-car collisions. In our region deer collisions are 2.5 times the national average, cruelly killing and maiming deer.  The Coalition outlined strategies for both the town and county/state to gain control over Southold's escalating deer population, such as the town expanding its program to include an evening hunting program, hunter incentives, education on best hunting practices, and forage plots / grassland management to attract deer away from residential communities. Many actions are based on recommendations from the DEC 2021-2030 Deer Management Plan.
The powerpoint presentation can be found here: https://docs.google.com/presentation/d/12trZW2OmWcjpBwGz4voCdA8W5MLS8okJ/edit#slide=id.p1
The public presentation is available on the Mattituck-Laurel Civic Association YouTube channel.
The full DEC 2021-2030 management plan can be found here: DEC Releases Final Deer Management Plan – NYS Dept. of Environmental Conservation
December 2021 – Letter to SC Tick Control Advisory Committee
We kept in touch with our elected officials.  All along this process the Coalition has been in contact with Leg. Al Krupski who is very concerned about Southold's deer overpopulation and tick-borne disease crisis. Southold Town, the Southold Town Deer Management Task Force, and local civic leaders joined with the Coalition to sign a letter to the county Tick Control Advisory Committee advising them of our escalating public health issue and asking them to to work with us to seek changes in NYS Environmental Conservation Law that would help us better manage our deer population. One change requested is allowing the use of crossbows and firearms in areas that are currently restricted to standard bow hunting only.
John Rasweiler, a Cornell-trained reproductive physiologist, retired medical school professor and member of the Town of Southold Deer Management Task Force, the Suffolk County Tick Control Advisory Committee and the North Fork Deer Alliance, was quoted in the Suffolk Times "our Town of Southold has a very effective deer management program. It's actually one of the better deer management programs that I'm aware of. However, as it's presently conducted, it's simply incapable of solving our problem. And I'm afraid in another 10 years, we're still going to have the same problems with no improvement. And indeed, the problems could even get worse." Coalition to county: Declare public health emergency over spread of tick-borne disease – The Suffolk Times  Mr. Rasweiler is author of the Guest Column: Comprehensive plan fails to address critical public health issue – The Suffolk Times
April 2022 – Our Town, County and State Plan a Joint Program
Our elected officials meet and take action. Town Board member Greg Doroski who was appointed liaison to the town's Deer Management Task Force met with Legislator Al Krupski, Assembly members Jodi Giglio, Fred Thiele and Senator Anthony Palumbo to craft legislation that directs the state department of environmental conservation to establish a deer management pilot program in the town of Southold. The pilot program would oversee the monitoring of the use of crossbows by hunters (currently not legal in Suffolk County), set conditions where recreational hunters could receive compensation, establish a young hunters program, regulate a program of qualified professionals hunting under controlled circumstances, and more.  Further, the town adopted a resolution in support of the updated NYS DEC 2021-2030 deer management plan. Read more here: Town, state plan joint program to address overpopulation of deer and ticks on North Fork – The Suffolk Times
May 2022 – Bills Introduced, Vote Planned for 2023
The Assembly and Senate bills were introduced in May 2022 at the request of Assemblymember Giglio  (Assembly Bill No. 10175), and by Senator Palumbo (S. 9090).  Both bills have been referred to the Environmental Conservation committees in their respective houses, and will be reviewed and voted on in 2023  https://nyassembly.gov/leg/?bn=A10175&term=2021
We welcome your comments and questions. Please email the North Fork Deer Management Coalition: [email protected]
John Rasweiler, Arnold Blair and Jim McMahon, Southold Deer Committee, Drianne Benner, Orient Association President, Barbara Best, Acting President, Cutchogue Civic, John Carter, Mattituck-Laurel Civic Association Vice-President, Anne Murray, Director, East Marion Community Association.Arnold Blair, Chair, Deer Committee, Nassau Point Property Owners Association, Angelo Mangia, Chair, Legal Affairs Committee,Nassau Point Property Owners Association, Mimi Ellis, North Fork Deer Alliance, John Rasweiler, PhD, North Fork Deer Alliance, John Severini, North Fork Deer Alliance, Don Stewart,, North Fork Deer Alliance, John Wittenberg, North Fork Deer Alliance, Ellen Wexler, North Fork Deer Alliance, Mark Haubner, North Fork Environmental Council, Jim McMahon, Southold Town Deer Management TaskForce, Mary Morgan, Drawdown East End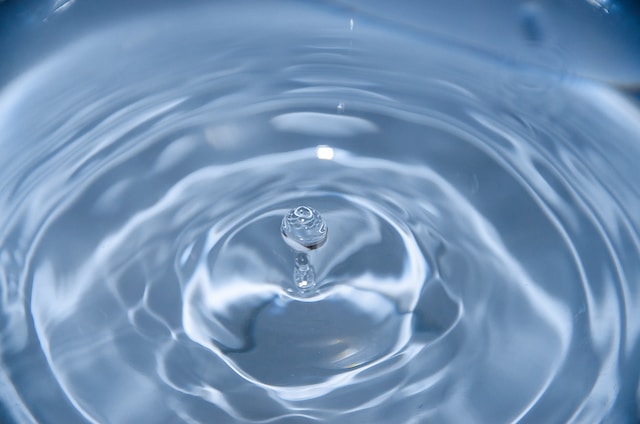 The OA Water Committee recently met with consultants at CDM Smith to discuss present and future recommendations that the community should consider to sustain the health of our water resources.  While the consultant has analyzed historical data from private well testing performed by Suffolk County Department Health Services, we do not have much information about how folks in the community are coping with issues of contamination and reliability.  The Committee wanted to hear directly from residents about their experience and practices with their well water.
read more